Key Services
We are committed to launching products that make a difference in people's lives. We work across a product's lifecycle, supporting biotech, pharmaceutical, and medical technology companies across the globe.
Outcomes Research
Our team provide unequalled accuracy and quality whilst delivering all aspects of systematic reviews, meta-analyses and patient-level data analyses.
Economic Modelling
We develop a range of robust health economic models that meet the commercial needs of our clients from simple Markov models to complex discrete event simulations.
Health Technology Assessment
We have extensive experience delivering successful HTA submissions in the UK and across the globe.
Value Communication
We effectively communicate the value of your products in a logical and insightful manner; from internal value dossiers to external scientific publications.
Pricing & Reimbursement
We partner with our clients to develop strategies for global pricing and reimbursement, harnessing our extensive KOL and payer network.
"FIECON exceeds my expectations by genuinely trying to achieve the best outcomes for our company. Their flexibility to adapt to unexpected changes and apply technical rigour, while respecting the commercial focus of the company is unparalleled. We see FIECON as part of our extended team."

Senior Market Access Manager, Mid-sized Pharma
"It was brilliantly smart and very well explained. It seems obvious now but that is what genius is, making complex things appear simple."

Associate Director, Mid-sized Pharma
"FIECON are my go to trusted partner. The team deliver high-quality work to timeline, every time. But more than this, FIECON has worked as part of our team, working towards achieving the best possible outcome by providing high level strategic input and challenge during our discussions."

Market Access Director, Small Biotech
"FIECON's highly skilled expert team helped us to successfully tackle a number of tough pricing and access challenges. Apart from their flawless technical expertise, we have a reliable thought partner to pressure test new ideas and strategies that have a broader relevance than purely health economic aspects."

Disease Area Director, Big Pharma
"The pricing and market access research was a high quality work project, which included detailed information to define the overall and country strategy while the gap analysis was instrumental in the next steps preparation. "

Executive Director, Biotech
"FIECON's strategic approach to problem solving is a breath of fresh air. We highly value their HTA knowledge and expertise, and they consistently deliver the best solution for us."

Value Demonstration & Access Lead, Big Pharma
"It is a pleasure to work with FIECON. The team are passionate about what they do and it really shows in their high-quality, creative solutions. Working with FIECON gives your projects the highest chance of success."

Senior Vice President, Small Biotech
"FIECON's team is highly experienced, commercially focused, responsive and flexible. A particular strength I highlight is that FIECON's team becomes a true partner with all company functions that they interact with. "

Executive Director, Biotech
STRATEGIC COUNCIL EXPANDS EXPERTISE
FIECON is excited to announce a significant expansion of the expertise available to clients through the newly formed FIECON Strategic Council.
The Strategic Council is a team of executive leaders who will provide unparalleled access to high-calibre commercial, payer, and patient advocacy expertise. These team members are Dawn Lee, Eric Lowe (OBE), and Dr Susan Suponcic.
Industry and academic skills abound in the Strategic Council:
Dawn Lee is a distinguished Associate Professor of Health Economics and Health Policy at the Peninsula Technology Assessment Group (PenTAG). A current lead for an Evidence Review Group and serving as a NICE committee member, Dawn is an exceptional health economist with a track record of over 50 UK Health Technology Assessment submissions and global expertise spanning more than 30 countries.
Eric Low, OBE is a visionary key opinion leader with an unwavering commitment to patient outcomes and rare diseases' prevention and curability. He is a leading authority in orphan drugs and melanoma medical research, local market access, and patient organisations in the UK. Notably, he founded Myeloma UK and currently runs a consultancy specialising in strategic market access, healthcare policy, and patient engagement.


Dr Susan Suponcic brings a wealth of US and Global pricing and market access commercialisation expertise. Her vast experience across US pharmaceutical companies and global consultancies will be leveraged to provide FIECON clients access to specific US launch and commercial expertise.
The introductionn of the FIECON Strategic Council has redefined the standard of excellence for strategic advice and support for the life sciences industry. Clients can look forward to unprecedented access to commercial titans and an accelerated path to resolving their challenges in global markets, in particular, dynamic "must win" US, UK, and European markets.

The formation of the council underscores FIECON's continued commitment to delivering industry-best results, experiences, and partnerships to clients in the pharmaceutical and Med-tech industry.
TIMES/LDC PEOPLE FIRST AWARD 2023
On 18th October FIECON CEOs, Mark and Kuntal Fisher won The Times/LDC People First Award.
The Times and LDC - part of Lloyds Banking Group LDC Top 50, champions the business leaders who are pushing for growth and building successful medium-sized businesses! Medium-sized businesses are the unsung heroes of the British economy and the driving force that propels innovation and growth, The People First Award recognises those with a clear mission to support people and create more equitable and inclusive societies.
John Garner, Managing Partner at LDC said 'Mark and Kuntal offer inspiring careers and a brilliant workplace while providing life-changing medicines to people around the world. We were impressed by their clear strategy which underpins everything they do. https://bit.ly/3rU0rTy
Mark said, "We are deeply honored to have earned a place among the esteemed LDC Top 50 Most Ambitious Leaders, and we are truly grateful for receiving the People First award. This recognition serves as a profound source of inspiration for us, strengthening our commitment to fostering an environment in which our team can learn, grow, and flourish. We are more determined than ever to make a positive impact on the lives of 100 million people and contribute £10 million to broader societal causes by the year 2030."
SILVER MEDAL FOR SUSTAINABILITY 2023
FIECON has been awarded the prestigious Silver Medal for Sustainability by EcoVadis, a renowned global sustainability ratings provider. This recognition places FIECON in the top 25% of companies that have excelled in sustainable practices, reflecting the company's unwavering commitment to environmental, social, and ethical responsibility.
EcoVadis evaluates thousands of companies worldwide, analysing their sustainability efforts across all industries and sectors. FIECON's dedication to sustainable practices and responsible business operations has enabled the company to stand out among its peers, earning this well-deserved Silver Medal.
The EcoVadis assessment examines four key criteria: Environment, Labour & Human Rights, Ethics, and Sustainable Procurement. FIECON's exceptional performance in these areas showcases its dedication to fostering a more sustainable and responsible global community.
Kate Benson, Social Responsibility Lead at FIECON, expressed her delight in achieving this significant milestone, stating, "This is a great achievement for FIECON. I am so proud that we met the bar for the Silver Medal, as it reflects the hard work and dedication of our team to integrate sustainable practices into every aspect of our business operations."
FIECON's leadership in the life sciences industry and its commitment to sustainable practices have solidified the company's position as a responsible corporate citizen and positioned us to collaborate more closely with our pharmaceutical and medical device partners who share our sustainability values.
For sustainability queries, please contact: Kate Benson at kate.benson@fiecon.com


PATIENT PERSPECTIVES PODCASTS
Patient advocacy is now the key to a successful product launch. Establishing relationships between patient advocacy groups and the pharmaceutical industry will ensure objective measures of efficacy are realised, and improved patient outcomes are achieved.

FIECON has launched a series of podcasts, talking to patients and patient advocacy leaders about the burden, unmet needs, patient journey, and possible future treatment options to better understand the patient's perspective.
Our goal is to provide a deeper insight into the experience of patients, particularly those with rare diseases who are often underrepresented. By doing so, we hope to contribute to the advancement of drug development and the exploration of future treatment options, while also giving a stronger voice to these patients.
Patient Perspectives podcasts
DIAMOND AWARD WINNER 2023
We were delighted to be recognised for our outstanding contribution to workplace philanthropy and presented with the Diamond Award for our Payroll Giving efforts in 2022/23, by the Charities Trust.
Payroll Giving is one of the most effective ways to give. It offers a simple way for our team members to donate to the good causes they are passionate about, tax-free, direct from their pay, and provides a regular income for the charities they support.

We support and encourage our people to give back to causes close to their hearts by matching Payroll Giving donations too.
CULTURE AWARD WINNER 2022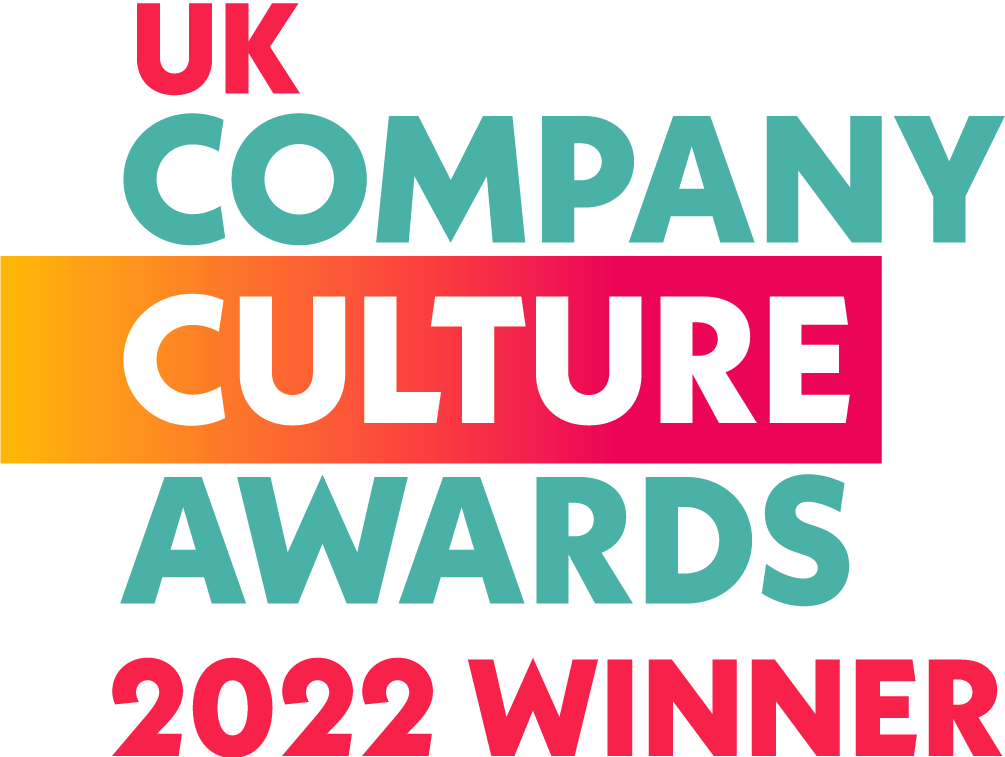 Team FIECON were thrilled to win the UK Company Culture Award for the Best Working Environment (remote) 2022.

Fiecon, Finalists for the Best Working Environment - UK Company Culture Awards